Residential Concrete, Basement, and Foundation Repair Services in Missouri
If you are facing problems like a cracked foundation or uneven floors in your house in Missouri, it's essential to address them without delay. We provide residential concrete leveling and home foundation repair services designed to restore the structural integrity of your home.
We understand the significance of a stable and secure home, which is why we offer comprehensive solutions for all your foundation needs. Our team of experts can handle any job, big or small, from residential waterproofing to basement repair. You can trust us to get the job done right the first time, ensuring the safety of your family and home. Concrete Leveling & Void Filling
Sidewalks, Steps, Porches, Patios, Driveways, Basement and Garage Floors, and more Residential Concrete Leveling & Void Filling Services
Do you have an uneven sidewalk or cracks in a concrete driveway? Perhaps your porch steps have sunken and are no longer at their proper height. All of these issues are often due to the natural soil settlement beneath your concrete. Over time, your uneven concrete can grow from being an unsightly nuisance to a dangerous tripping hazard for you and your family. Learn how you can quickly and effectively correct this concrete issue without a costly and messy replacement.
A level concrete surface is important for both aesthetic and functional purposes. If your concrete surface is uneven, it can create trip hazards, pool water, and prevent your door from closing properly. Luckily, Raising Solutions provides concrete leveling services in Missouri that can quickly and easily fix these issues. Our concrete leveling process uses eco-friendly polyurethane foam to lift sunken concrete slabs back to their original elevation.
First, small holes are drilled into the concrete. Then, a pumping truck injects the foam beneath the slab until it is level with the surrounding area. The holes are then filled and sealed for a smooth, level surface. Not only does this process improve the look of your concrete surface, but it also helps to extend its lifespan by preventing further settling and cracking.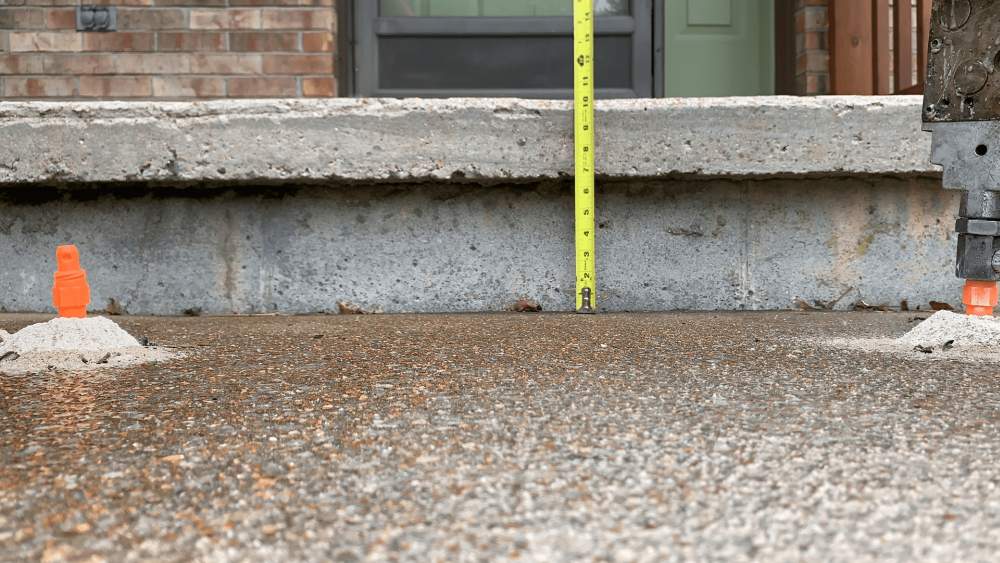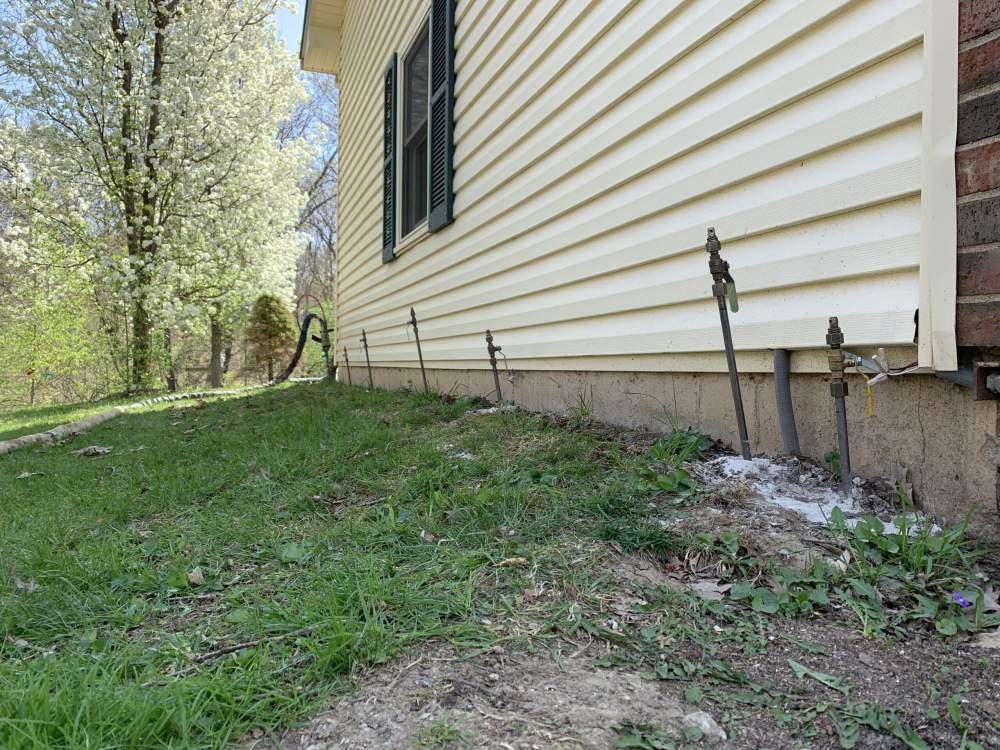 If your home isn't built perfectly level, you may notice various problems like cracked walls or doors that won't close properly. That's because an unstable foundation can lead to home damage. But don't worry, residential foundation stabilization services can fix these issues.
A homeowner may have to excavate around their entire home to repair its foundation. However, our foundation repair methods provide a trench-less option. This re-stabilizes the soil under your home, creates a stronger foundation, and doesn't require the destruction of your landscaping. Say goodbye to home damages with our home foundation repair services.
Residential Basement Waterproofing
Your home is a valuable investment worth protecting from any potential damage, with water being one of the biggest threats. Water can cause severe and costly damage to your property and even pose a health risk with mold growth.
At Raising Solutions, we prioritize the importance of a reliable and dry basement. Our team offers exceptional waterproofing services, including drainage, vapor barrier, and sump pump installation, to name a few. We work with you to create a personalized waterproofing plan that fits your specific needs and budget. With our services, you can trust that your basement will remain dry and safe for an extended period.
Do you have a failing sea wall? Have you noticed cracks in the sea wall, sink holes or have water penetrating the wall? Traditionally, a damaged seawall must be replaced at great expense to you. This process is not only time-consuming but also damaging to the environment. Raising Solutions can simply and permanently solve the problem within a single day's work without the mess and expense of a complete replacement.
Polyurethane foam is an increasingly popular choice for sea wall repair. Unlike traditional concrete or steel, polyurethane foam is lightweight and easy to transport. It can also be rapidly installed, which is essential for repairing sea walls in a timely manner. In addition, polyurethane foam is extremely versatile and can be molded to fit any shape or size. As a result, it can be used to repair even the most severely damaged sea walls. With its many benefits, it is no wonder that polyurethane foam is becoming the preferred choice for sea wall repair.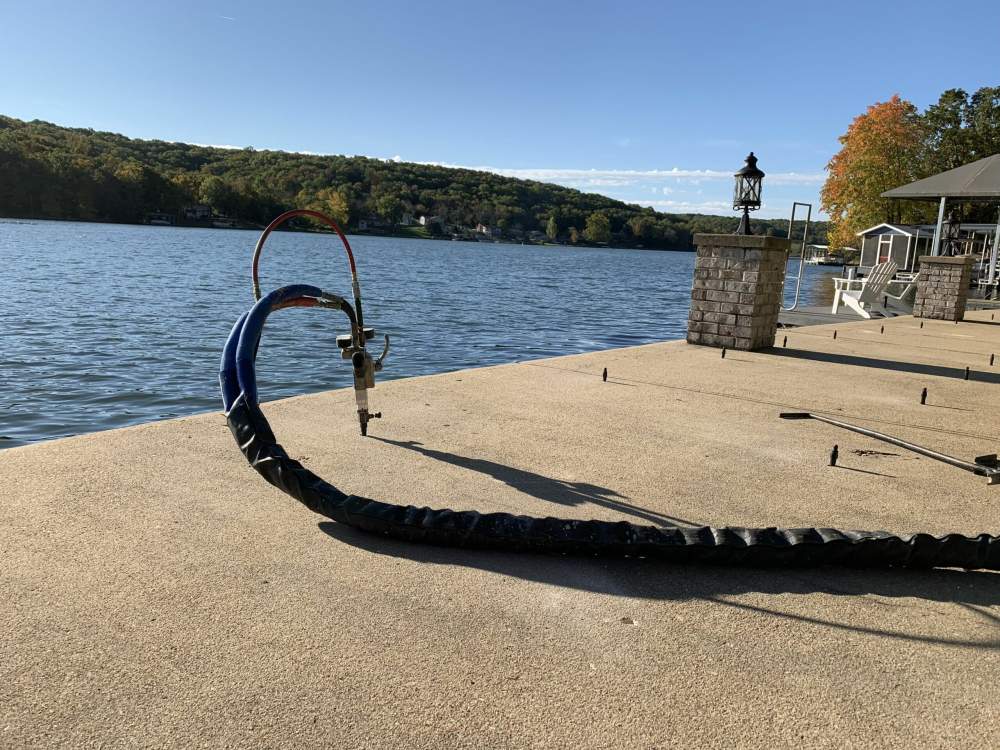 Missouri's Expert Concrete Contractors
As any homeowner knows, keeping your home in good repair is essential to maintaining its value. One of the most common issues that homeowners face is uneven concrete. Whether it's due to settling soils or poor installation, uneven concrete can be both unsightly and dangerous. That's where Raising Solutions comes in. We are Missouri's premier concrete leveling contractor, with years of experience helping homeowners raise and level their concrete surfaces.
As Missouri's leading concrete leveling contractor, we have the experience and expertise to quickly and efficiently level your concrete. We use the latest equipment and techniques to ensure that your job is done right, and we offer a variety of services to meet your specific needs. So if you're looking for a reliable, experienced contractor in Missouri to level your concrete, look no further than Raising Solutions.
Ready to Get a Quote For Your Project?