Raising Solutions – Missouri's Concrete Leveling Company
We're proud to be Mid-Missouri's top concrete lifting team!
We are here to fix the humps, bumps, and jumps in your Concrete!
Raising Solutions is a local, family-owned and operated concrete raising and leveling company in central Missouri. We specialize in concrete leveling, concrete repair, sea wall repair, and foundation stabilization. We're proud to bring the expertise and resources needed to handle projects from small residential repairs to large-scale DOT projects.
We use a specialized process to raise sunken concrete slabs, addressing a variety of issues including trip hazards, drainage problems, and cracked sidewalks. Through our high-density polyurethane concrete leveling process, we've helped thousands of customers solve their concrete slab lifting problems, saving them millions of dollars in costly repairs, downtime, and disruption.
Our team of experienced professionals is dedicated to providing high-quality workmanship at a fair price. We believe that our customers should be able to enjoy their property without worrying about trips, falls, or other hazards. If you're in need of concrete leveling or repair services, we encourage you to contact us today for a free estimate.
We Are Missouri's Concrete Experts
At Raising Solutions we have a proven track record of providing high-quality services to our clients, and our team of experienced professionals is second to none. We also use the latest equipment and techniques to ensure that your project is completed efficiently and effectively. Contact us today to learn more about our concrete leveling services and how we can help you achieve your goals.
Quality Concrete Leveling Solutions
As a leader in the concrete industry for over 50 years, our mission is to ensure customer satisfaction through excellent service and quality workmanship. Our goal is to complete every job in a manner that exceeds your expectations and enhances the function, durability, and beauty of your property. We take pride in our reputation – as seen by our commitment to industry training, safety, and sustainability initiatives – as we continually strive to improve the quality of work achieved on each project. Our team looks forward to making sure you are completely satisfied with the results of your next concrete undertaking.
Free Concrete Leveling Estimates
We offer free online or on-site estimates for your concrete leveling, sea wall repair, foundation stabilization, or DOT project. Our professional concrete contractors will carefully review the details of each job with you before any work is started.
Fully Insured and OSHA Certified Concrete Professionals
At Raising Solutions, we prioritize safety and reliability when providing concrete leveling services. We make sure to follow OSHA guidelines precisely, as well as carry comprehensive insurance for every job we perform. Our customers are important to us, so we strive to ensure our work is completed with the utmost care and precision. With Raising Solutions, you can trust that your home or business will receive the highest quality service available.
Our Lifetime Guarantee
Our concrete leveling services are guaranteed to last the entire lifetime of the concrete. This means that you won't have to worry about your repairs failing or breaking down over time. Whether you're looking to level a driveway, sidewalk, or patio, our team at Raising Solutions will get the job done right. Contact us today to schedule a free consultation.
More Than Mudjacking
Mudjacking is typically less expensive than polyurethane concrete leveling, but it is also less durable. Mudjacking materials can settle over time, resulting in a need for additional repairs. Polyurethane concrete leveling, on the other hand, provides a longer-lasting solution. The foam injected beneath the slab helps to support the weight of the concrete, preventing it from settling further. As a result, polyurethane concrete leveling is often the best choice for correcting sunken concrete sidewalks, driveways, and patios.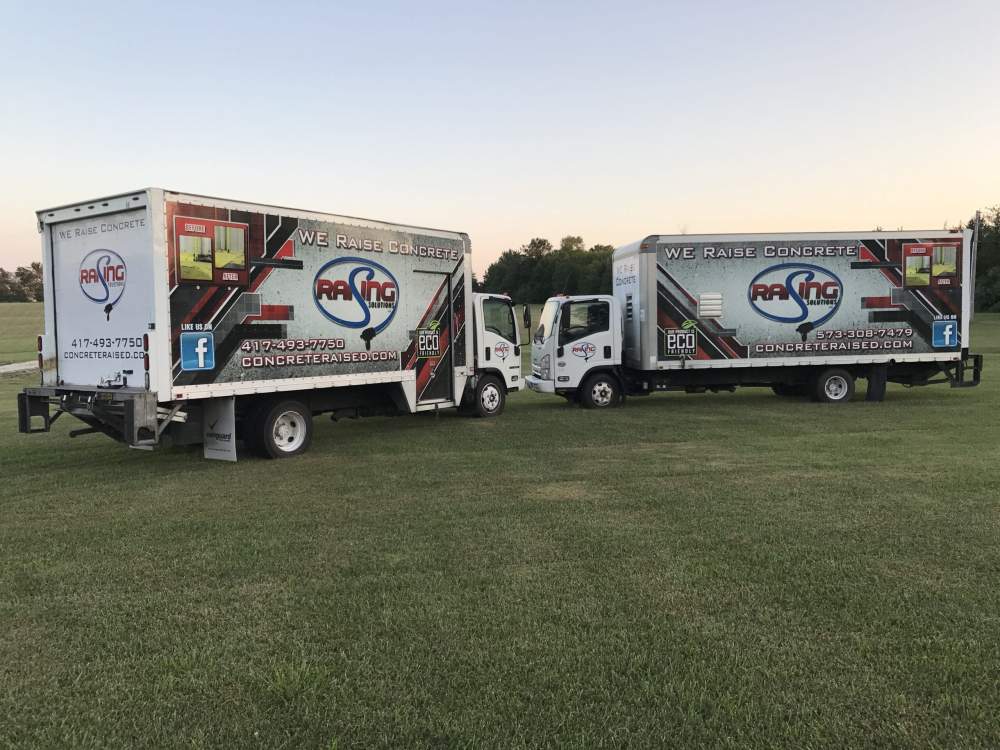 Memberships and Affiliations
Joining professional organizations is an essential way to build credibility and trust within the community. That's why Raising Solutions joined the Home Builders Association of Central Missouri and the Better Business Bureau – two respected platforms that help foster relationships between businesses and our customers. Through our memberships with these organizations, we are able to demonstrate our commitment to providing honest service, fair business practices, and excellent quality products for all of our customers.

Ready to Get a Quote For Your Project?