Missouri's Local Concrete Leveling Experts
At Raising Solutions, we are dedicated to providing high-quality concrete raising and foundation repair services to our customers throughout Missouri. Raising Solutions is the concrete leveling company Missouri trusts. Residential driveways, porches, patios and sidewalks, foundation stabilization, foundation piering, sea walls, and more. Serving central Missouri and nearby areas in raising commercial and industrial interior floors, sidewalks, parking lots, foundation stabilization, commercial foundation pier installation, sea walls, and more. Raising Solutions has the capabilities and expertise to raise roads, bridge approaches and departure slabs, infrastructure, and more.
Reliable Concrete Leveling and Concrete Lifting in Missouri
Raising Solutions' team of expert contractors can quickly assess and resolve concrete slab and foundation problems of all shapes and sizes. As one of the leading polyjacking companies in Missouri, our deep foam injection processes lift and level sunken concrete slabs and restore the soil's load-bearing capacity below the surface of your home, business, or infrastructure project.
Our concrete lifting process is fast, effective, non-invasive, and permanent. We deliver polyurethane concrete lifting at a fraction of the cost of other methods, such as traditional mudjacking. Forget demolition, messy concrete replacement, or the use of heavy equipment; through our process, your landscaping and other property stay intact. The eco-friendly polyurethane foam is formulated to be a permanent solution and strong enough to support thousands of pounds. Plus, you'll be able to walk and drive on your lifted concrete immediately!
Concrete Leveling & Void Filling
Foundation Stabilization & Deep Foam Injection
Bridge Approach & Departure Slabs
Get a Quote For Your Concrete Leveling Project
Although concrete is a durable material, it's not immune to settling over time. This can be caused by several factors including soil erosion, poor compaction, or the gradual breakdown of the concrete itself. Settled concrete can lead to a number of problems, such as cracked slabs and trip hazards. Luckily, there are a number of ways to repair settled concrete. One option is to lift the slab back into place using high-strength grout to fill the voids beneath the slab.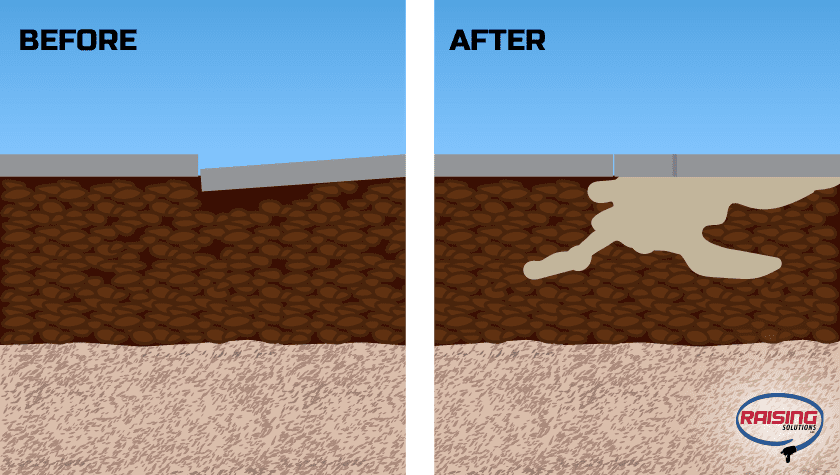 Your home is your biggest investment, and you want to do everything you can to protect it. That's why it's important to have a solid foundation. Over time, foundations can settle and become unstable. This can lead to cracking, uneven floors, and even serious structural damage. Deep foam injection is one method of stabilization that involves injecting expanding foam into the soil around the foundation. This foam not only fills voids or holes in the soil but also creates a strong support system for the foundation. As a result, deep foam injection can help to stabilize the foundation and prevent further damage.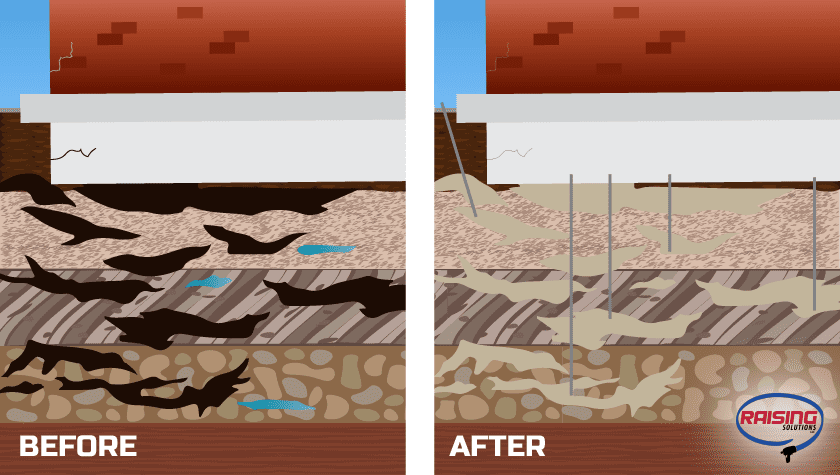 Sea walls are designed to protect against erosion and flooding, but they can be damaged by high winds and waves. Sea walls can also be undermined by soil instability or poor drainage. If you live in Missouri and your sea wall is in need of repair, contact Raising Solutions. We use an innovative method called polyjacking and deep foam injection to restore your sea wall.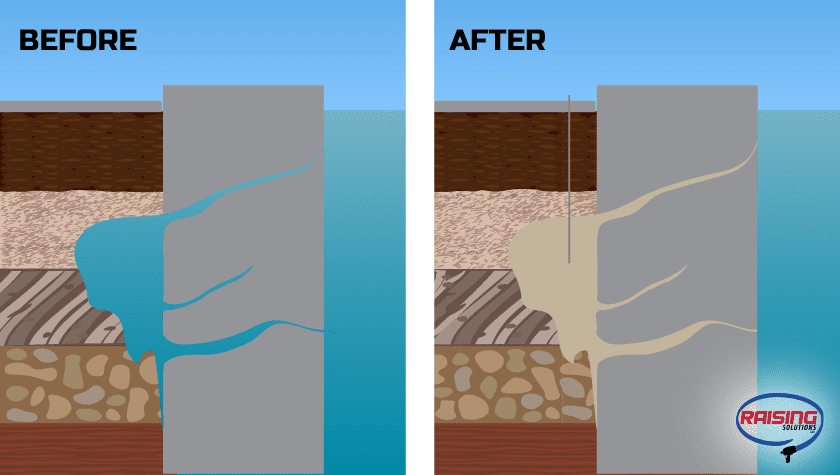 Foundation Piering
At Raising Solutions we offer professional foundation repair services that are tailored to your specific needs. Our highly experienced experts will assess your project and provide a solution to protect the long-term condition of your property's foundation.
We work quickly and efficiently, taking great care to make sure the job is done right the first time, so you can be confident that we provide both excellent value for your money and peace of mind knowing that your building is stable. Contact us today to find out how we can help you with your foundation repair project.
Concrete experts you can trust
Providing Quality Workmanship to central Missouri and Nearby Areas
With over 50 years of experience in the concrete leveling industry, we strive for excellent service and quality workmanship to make sure you are completely satisfied. When it comes to concrete lifting in central Missouri and surrounding areas, Raising Solutions is the concrete leveling expert Missouri trusts.
Free Estimates
We offer free online or onsite estimates. We'll carefully review the details of each job with you before any work is started.
Fully Insured and OSHA-Certified
We take our profession seriously. We are fully insured and follow OSHA guidelines to ensure the safety of our customers and crew.
"Bryon is very knowledgeable when it comes to anything to do with concrete. If your thinking about having your sidewalk, steps, or even your driveway raised, please do yourself a favor and call these guys. They do great work, very reasonably priced, and most important, they are extremely honest and hard working. You WILL be satisfied in their work, thanks again Bryon."
"I highly recommend Kolby and his crew at Raising Solutions. My sidewalk had become an uneven hazard and my driveway had settled but they provided a prompt and fair estimate, and then completed the work within my time frame and on budget. They're professional, reliable, and cost-effective!"
"Kolby with Raising Solutions came out today and lifted our driveway across the entire 3 car garage entryway along with two adjoining sidewalks. He did an AMAZING job! His professionalism, attention to detail, and thoroughness made this a very pleasant experience. I would highly recommend this company if you're considering any type of concrete raising."