Residential Foundation Stabilization
& Deep Foam Injection
A home is often your biggest investment and when it is built on unstable soil, it can cause many problems with its foundation. At some point, most homeowners will face a settling foundation, uneven floors, cracked walls, or other signs that point to foundation issues. Oftentimes, to fix these foundation issues, you would need to dig out around the entire home to expose the foundation for repair. However, Raising Solutions' Deep Foam Injection is the only trench-less option to re-stabilize the soil under your property and create a stronger foundation to support your structure without destroying your landscaping.
Have you noticed these signs of foundation issues?
Sticking Doors or Windows
The Raising Solutions Foundation Stabilization Advantage
Cost Effective Repairs
Concrete raising can cost a fraction of the cost of other methods, frequently saving you over 50% of the cost of replacement! 
Fast Installation
Fix your concrete with minimal down-time and disruption. In most cases, you'll be able to walk on your lifted concrete within 30 minutes! 
Non-Invasive Process
Traditional methods of foundation repair can be a messy endeavor, whereas concrete raising requires nearly invisible dime-sized holes.
Long Lasting Stabilization
The polyurethane foam used in our process is strong, resilient, insoluble, and highly resistant to long-term erosion.
Eco-Friendly Materials
Polyurethane foam consists of 39-49% renewable and recycled materials. Plus, it will never leach dangerous chemicals or pollute groundwater.
Deep Foam Injection for Foundation Repairs
At Raising Solutions, we use an innovative method that is commonly referred to as Deep Foam Injection. This is the process of injecting polyurethane foam at specific depths underneath the foundation's footer where settlement has occurred. By injecting the foam deep beneath the footer, the foam compacts the loose soil that has caused the settlement of the foundation, displaces any water present underneath the foundation, and increases the load-bearing capacity of the soil that your property is built on.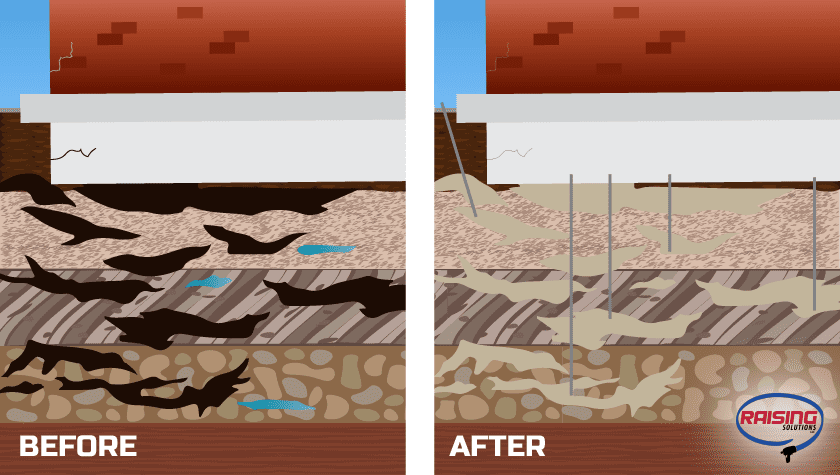 Missouri's Expert Concrete Contractors
As any homeowner knows, keeping your home in good repair is essential to maintaining its value. One of the most common issues that homeowners face is uneven concrete. Whether it's due to settling soils or poor installation, uneven concrete can be both unsightly and dangerous. That's where Raising Solutions comes in. We are Missouri's premier concrete leveling contractor, with years of experience helping homeowners raise and level their concrete surfaces.
As Missouri's leading concrete leveling contractor, we have the experience and expertise to quickly and efficiently level your concrete. We use the latest equipment and techniques to ensure that your job is done right, and we offer a variety of services to meet your specific needs. So if you're looking for a reliable, experienced contractor in Missouri to level your concrete, look no further than Raising Solutions.
Compare this to the mess of traditional methods of foundation repair.
Ready to Get a Quote For Your Project?